How to Choose a Domain Name Without Hurting Your Brand Reputation & Search Ranking
Is it true that picking the right domain name will make a difference?
The answer is yes, it does make a difference. Having the right domain name is critical. Domain names are crucial as they can make or break your website.
The reasons to have the right domain name are:
First Impression – Your website name is the first thing users see. For instance, Amazon.com, Facebook.com, Google.com. Quality service or product with the right domain name proves to offer a positive and lasting impression.
Search Engine Results – It's not mandatory, but keyword-oriented domain names can significantly impact search rankings.
Brand Recognition – Helps in increasing your brand name.
Encourage Site Visitors to Return – Domain names that are short and easy to remember can help visitors remember them. And, with that, quality content and service also makes them come back again and again.
Changing Domains Is Not Easy – Once you create your website, it can become time-consuming and even lead to losses in conversions and search ranking if you try changing the domain.
Gives an Idea – Your domain name also helps visitors identify what your site is about. For example, our website websitesecurtystore.com immediately explains that this site deals with website security-related kinds of stuff.
Websites are like real estate of the internet, and their name does carry power. Choosing the right domain name that fits your industry and attracting visitors while boosting your search ranking is a careful process.
These are some of the reasons that tell why choosing a domain name in a particular manner will prove helpful for your business.
Here are some of the essential things you should be aware of before choosing a domain name.
How to Choose a Domain Name for Your Website More Effectively
Whenever you think about starting a blog or business website, choosing a domain name is one of those stressful situations you deal with where you wouldn't like to make any mistakes.
However, to make it easier for you, here we have some tips to help you if you're questioning how to choose the right domain name.
Choose the Right Domain Name Extension
Keywords in the Domain Name
A Short Domain Name
Easy to Spell & Pronounce
Branded & Unique
Avoid Hyphens
Say No to Double Letters
Make Long-Term Planning a Thought
Be Sure It's Not Trademarked
Use Domain Name Generators for Different Ideas
Be Fast
Be Cautions If You're Buying an Existing Domain Name
Consider Domain History
who.is For Domain History
Go with a Respected Domain Registrar
Choose the Right Domain Name Extension
Yes, it's 2021. And .com is still ruling the domain name extension. The internet has been around for more than decades, and .com is one of the most recognized and accessible TLDs.
Put simply, .com is something people are still in association with, and it's still primary TLD compared to other available ones. If you're looking to build a branded domain that does well, then .com is the answer.
Many different domain extensions are available today, such as .pizza, .photography, or even .blog. But that's also the fact that dot-com domains are still memorable. Users, especially those who aren't tech-savvy, will usually type ".com" to open any website without thinking about domain extensions.
Though there are successful websites with other domains like .org or .net, it's recommended you go with the .com extension, and if you don't find one you like then go for another one such as .org or .net. But avoid using awkward extensions such as .pizza, .club, or .space.
Keywords in Domain Name
As keywords are essential for content, they are also important for a domain name. Using a keyword within your domain name, you're telling search engines such as Google what your website is about.
Yes, it's not that easy to find the right domain name with the targeted keyword nowadays, most of them are taken. But get creative and try combining keywords with other words to make your domain stand out.
Short Domain Name
Keywords are essential, don't take it lightly but don't go overboard to choose a domain name. Using a keyword is good, but also be careful that you keep your domain name short and memorable.
It's recommended you don't make your domain name too long. Longer domain names are hard to remember, which means users may likely forget after one or two visits. Further, users may even make typo mistakes that may lead to errors, due to which they'll probably go to your competitors, and ultimately, you'll lose visitors and conversions.
Easy to Spell & Pronounce
Keeping it easy to spell and pronounce is another way to choose a domain name because you don't know when you'll need to share your domain name. For those who wonder how to choose a business domain name, then this is the answer. It should be easy to spell and pronounce, which helps users understand quickly and spell to any listener. For example, it will become easier for others to note down your professional email address, as they can understand your domain name easily.
Branded & Unique
Having a branded and unique domain names creates a lasting impression. But, equally, it's essential first you do the proper research of your competitors and find out what others are using in your niche. Compared to those generic domain names, branded and unique domain names always perform better while helping you stand out in the competition. For example, Amazon.com looks more branded compared to SellingBooksOnline.com.
Avoid Hyphens
Avoid using hyphens within your domain names. Hyphens are often looked upon as a sign of spam.
Also, domains with hyphens are very likely to cause typo mistakes. For instance, you thought about using domain names with hyphens because your desired domain is already taken, then it's most likely that users will land on their website instead of yours once they miss adding a hyphen.
Say No to Double Letters
When it comes to choosing a domain name, it's recommended that you avoid using double alphabets within your domain name. As there are high chances that you may lose your website traffic due to any typo mistake, that means you may even get a loss in conversions. For example, WebsitesSecurityStore.com can easily lead to typo mistakes. Due to this, we have a domain named WebsiteSecurityStore.com.
Make Long Term Planning
It's best to choose a domain name that matches your industry or niche as it gives a clear idea of what your site will be about. You should give careful thought before making any final decision as you shouldn't limit your long-term planning.
For instance, if you're a florist who's thinking of getting a domain named rosesblog.com, it may start out great, but you'll get limited to it. You won't blog about other flowers, as the domain name will prevent you from doing so. Even readers will also assume information is only pertaining to roses and no other flowers, and in that scenario, you may lose different potential visitors.
Later, if you decide to purchase another domain and try moving all content to it, it'll be a challenging situation, and most likely, you may even lose search ranking if you make any mistakes. So, it would help if you gave proper thought before choosing a domain name.
Be Sure It's Not Trademarked
Before choosing a domain name for a website, make sure there's no registered business with that name. You can use trademark search tools to know if there's any similar or exact name already trademarked.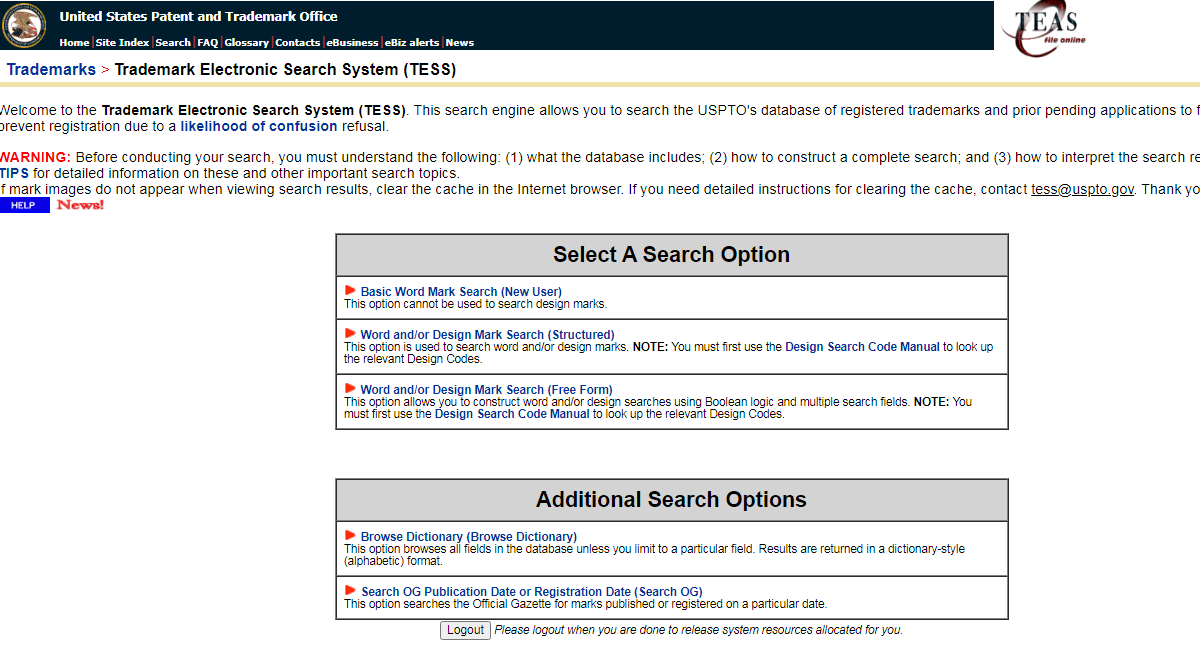 Furthermore, you can also search on popular search engines like Google and make sure business with a similar name is not available on popular social media websites such as Facebook, Twitter, and Instagram.
The reason for making sure you don't match with other business names is that it can create confusion and many legal implications if your domain name or logo comes under trademark and copyright infringement.
Domain Name Generators for Different Ideas
More than 350+ million domains are registered, which means many can't find their desired domain names as good domain names are already taken. If you're questioning how to choose a good domain name within your industry, you can look through a free online domain name generator tool like Nameboy. These tools automatically search for your mentioned keywords and help you find clever domain name ideas that you wouldn't have thought about.
Be Fast
Thousands of domains are registered daily from all over the world. If you've found your desired domain name, then it's recommended that you act fast.
As mentioned earlier, domain names are similar to real estate. Numerous people actively look for good and branded domain names to register for future profits. If you aren't fast with your decision or wait too long, then there's a high chance of your desired domain name being registered by someone else.
As domain names are relatively cheap, it's recommended you take a quick decision and let it expire if you don't want to continue.
Be Cautions if You're Buying an Existing Domain Name
Often people think about buying an existing domain name which is quite the opposite of buying a new domain name. However, be careful before doing so. Because it's not a new domain, that means it has a history, which you can't be sure about it.
On the good part, the domain may have a respectable history, due to which Google may even give a boost if you aren't starting from scratch, as Google might already know about the domain.
On the bad part, if the domain had featured something illegal or inappropriate content in the past, such as gambling, porn, email spam, or malicious content, then it may backfire, and you may get banned from Google.
Buying an existing domain from a marketplace such as Flippa may still sound considerable as every domain goes through specific validation steps in a basic way. But, to make it safe, you should still look through it on your own.
For example, you can do a manual search for the domain name through Google by using:
site:YourDomainName.com
Consider Domain History
Don't forget to go through this step, even if you're purchasing a new domain name. Many times, you might like the domain name, and you may even find it, but it's possible that it might have been registered previously and later abandoned by the owner. It would be best if you go through it and find out what was on it earlier.

For example, you can look through the history of the domain name you want to register using a free online tool like
Wayback Machine
that allows you to check if the domain you're interested in has been used for anything.
who.is for Domain History
"who.is" is another tool that you can make use of after Wayback Machine, especially if you're not purchasing a new domain name. It helps to see the current information of a domain name you choose. For instance, who's the website owner, how long the website is registered, the website's registrar, etc.
Go with a Respected Domain Registrar
Domain registrars are an organization that registers a domain name for you and provides you full access to that domain name. It's recommended you go with that domain registrar who is trustworthy and respected within the industry. Likewise, you wouldn't like to come across any issue later on once your website starts establishing.
Further, if your desired domain name is available, we recommend choosing someone who also offers you an excellent hosting solution. For example, selecting best secure hosting provider like Bluehost will allow you to get a free domain name.
Wrapping Up
Phew, that's a lot of reading! However, reading it once and noting down points that you may consider important is more than enough insight to achieve your desired perfect domain name. Best of luck!