Easy to Follow Guide to Fix 'The site ahead contains malware' Error on Your Website
WordPress websites show errors and warnings from time to time. But if you're witnessing "The site ahead contains malware" or "The site ahead contains harmful programs," then something is not right, and it's recommended that you act as fast as possible.
Put simply, this WordPress error message "This Site Ahead Contains Malware" means what it says. It notifies your site visitors that your website is infected with harmful malware or has been hacked, and it isn't safe for them to visit it.
Further, popular search engines like Google crawl everyone's website, including yours, regularly to index newly added or changed content. In that process, if they find something harmful such as malware, they start showing a warning to site visitors. Also, this type of warning message can have a severe consequence on your SEO and site traffic. At worst, your web hosting provider may suspend your account due to this warning message. Lastly, it can negatively impact your business as well as reputation.
Nonetheless, if you're facing this issue, then no need to panic. Here, we'll guide you in detail on how to fix The site ahead contains malware. Along with other essential things such as what causes it and even how to prevent it from happening again.
Here's How to Remove The site ahead contains malware
To protect users, Google displays this warning message, "The site ahead contains malware," and they blacklist your website. To proceed towards finding and removing this Google warning message, follow below process:
Verify Your Website Status In Google Safe Browsing
Finding the Malicious Code Through Google Search Console
Remove malware from your website
Submit your website for review to Google
Preventing your WordPress Site from malware infection in the future
Verify Your Website Status in Google Safe Browsing
Once you find out that your website displays the warning message 'The site ahead contains malware,' we recommend that you confirm the same by testing your site through the Google Safe Browsing tool. Simply go to the Safe Browsing page and enter the URL of your site.

Finding the Malicious Code Through Google Search Console
Those who are getting the Google warning message 'The site ahead contains malware' most likely also receive notice in Google Search Console (if the website is connected with it) regarding the website's malicious codes. Further, it gives some insights into the issue. And sometimes, it even provides a list of infected URLs or else malicious code that causing the problem.

You can also find all the potential issues through the Security Issues tab under the Security & Manual Actions section within Google Search Console.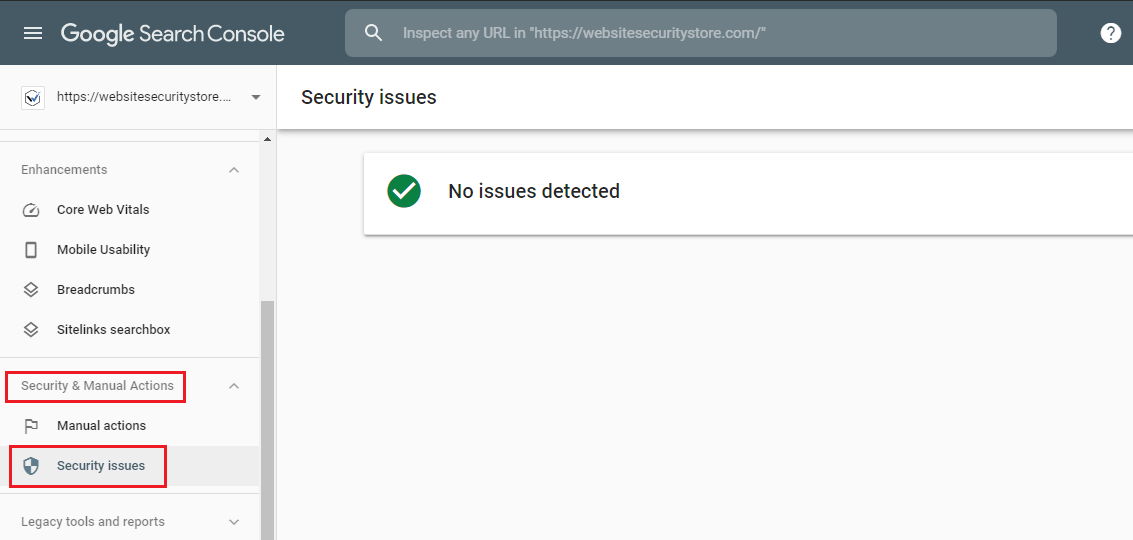 Another way to learn about your website malware infection is to efficiently use security tools like CodeGuard that provides vulnerability scanning and malware detection.
Remove Malware From Your Website
For removing malware from the website, there are two different ways:
Removing Malware Manually
Use Website Security Tool like CodeGuard
Removing Malware Manually
Removing malware manually from your site is not easy. Most of the time, backdoors remain open due to some mistakes. And because of that, your site can get hacked again. However, if you're confident enough to try this method, then you can try by following the below-mentioned steps:
Get connected to your WordPress site using FTP.
Sort all the site files according to modified timestamps and figure out whether your site has been updated specifically at the time your site got hacked.
Check your site's folder and look for the malicious code.
One by one, open all the files you suspect, whether it's genuine or not and check the codes written in them. We recommend you download a new WordPress file from WordPress.org and compare it with an already existing file.
Once you find the malware remove it or replace that malware-infected file with the freshly downloaded clean file.
This mentioned method is relatively straightforward and doesn't require any additional software or backups. It's not recommended because it takes a long time, and even a slight mistake can leave some backdoors and malware that can lead to another hack.
Use Website Security Tool
Whether you're experienced or not, using a website security tool such as CodeGuard that provides backup copy and malware detection and removal features is recommended. Lastly, it saves your time, too.
Submit Your WordPress Site for Review to Google
Once you remove malware from your website, then the second step for removing Google warning message "The site ahead contains malware" you'll require to submit your site for review to Google. However, you'll need to adhere below mentioned Google's policy before you submit your site for review:
Login to Google Search Console and ensure you're the owner of the website.
Be sure your site is clean and there's no malware or any malicious code.
Fix all the vulnerabilities that lead to the hack by installing all the pending updates on your WordPress website.
Lastly, if WordPress hosting provider has suspended your site, you'll require to contact and request removal of that suspension. Once that suspension is removed and your site is online, you can proceed further to contact Google to review your website.
For submitting your site for review to Google, follow the below steps:
Log in to Google Search Console and open the Security Issues Report.
Select an option Request a Review.
Fill in all the required information asked by them, such as what action you took to remove the malware issue.
Submit the request for the removal of the Google warning "The site ahead contains malware."
Google will take around a day to several weeks to process your request to remove the warning. And, once they review your site is clean, you'll receive a response from them in Google Search Console Message, and they'll remove the warning within 72 hours.
Now, relax as your site will normally work like any other site. Though, we recommend clearing your browser cache and search your site on Google to ensure there's no warning message on your WordPress website.
Lastly, it's also crucial that you take additional security measures for your site, so your WordPress site doesn't face warning messages like "The site ahead contains malware" in the future.
Preventing Your WordPress Site From Malware Infection in Future
Nonetheless, it's also crucial that you make sure your site doesn't get blacklisted again, or you don't get a Google warning like "The site ahead contains malware." For doing so, you'll need to implement preventive measures for your WordPress website. And some of them are as follows:
Security Plugin Installation
For WordPress, various types of plugins are available, and among security, plugins are essential. It's recommended to prioritize it. If you're using a security tool like CodeGuard that offers a WordPress plugin, then make use of it as it'll ensure your WordPress site's security may prove helpful to prevent hackers from attacking your site.
Keep WordPress Updated
WordPress regularly sends out updates that enhance features and even patches & fixes for vulnerabilities or other issues. Similarly, WordPress themes and plugins do so. Therefore, it's recommended you update your WordPress's core installation along with installed plugins and themes as and when provided.

Use Trusted Plugins & Themes
Avoid using pirated or nulled WordPress themes and plugins. They may be available for free or might be a lot cheaper compared to premium ones but often consists of malware that can lead to your site being hacked.
It's recommended that you get your WordPress theme and plugins listed in the WordPress repository or through a trusted marketplace such as ThemeForest or CodeCanyon.
Delete Plugins & Themes You Don't Use
As many elements, you've on your site that many opportunities hackers have to hack your website. And Hackers often look for plugins and themes of the WordPress site. So, it's recommended you delete the plugins and themes you don't use and only keep active ones that you use regularly.
Employ WordPress Hardenings
WordPress comes with numerous functionalities that are used for building and running a website. However, not every single feature is used by everyone. So, it's recommended that you block such areas of WordPress as it slims your site's chances of getting attacked. For instance, you can change secret keys and passwords regularly, disable and delete plugins that are not needed. Setting alerts for unidentifiable suspicious login attempts, limiting login attempts at a given moment, installing SSL/TLS certificate, along with other website security measures that harden the security of your website.
What Causes 'The site ahead contains malware' Error?
This Google warning message means your WordPress website is blacklisted. Whenever any Google user tries accessing your website, Google will show the warning message 'The site ahead contains malware' with a red screen so the user gets notified this site isn't safe to use and should be avoided.
Google doesn't want their user to visit any website that has any potential to harm them. And it's the very reason Google shows this warning message. Although, if you aren't doing anything that can be considered harmful or deceptive such as selling illegal drugs, conducting illegal gambling, or any other things. In that case, your site may have been hacked. And because of this, your site may be showing malicious or illegal activities that you might not be aware of.
How Your WordPress Website Got Hacked?
Google error message 'The site ahead contains malware' is the significant indicator of your site being hacked. Some of the possible reason behind it is like:
1. Infection Through Installed Plugins & Themes:
There's a possibility of installed plugins and themes facing vulnerability issue that gives hackers access to your website through that vulnerability and let them install malware such as wp-tmp.php. Generally, they or plugin developers fix the problem and provide an updated version. But if you haven't updated, then hackers can find a way to exploit that vulnerability.
Installation of pirated software as they're free due to which it often contains malware. And hackers can make use of such software to distribute malware through it.
You may have installed a Theme or Plugin from a source that's not trustworthy. For instance, if you've bought a theme or plugin from third-party websites, it could be a source of infecting your site.
2. Uploading any file into your website using an infected computer. For example, you upload files from a malware-infected computer, then it can spread quickly into your website if any infected files get into your site.
3. Hackers may have used a technique like brute-force to crack the username and password of your admin site.
Though the list can be endless, these are common reasons why your site gets infected by malware.
Why Search Engine Like Google Flags Malware Infected Websites
Popular search engines like Google give first and foremost priority to user satisfaction and security. For instance, if your website has any issue that can harm users in any way or form, then without delay, users will face error messages that help them recognize problems like malware infection and avoid visiting the site.
It's for user safety because hackers can use malware for malicious activities once the site gets malware-infected. For example, stealing user's critical information, showing malicious content, or selling illegal items. Further, all these activities can affect users in different ways like:
Viewing inappropriate ads or content.
Redirecting to malicious websites that can dupe them into downloading malware onto their system.
Redirecting to phishing or malware-infected sites that can steal confidential information.
Wrapping Up
As a website owner or visitor, if you're facing this Google error 'The site ahead contains malware,' it's most likely that the website is malware-infected. Some other ways this same error message gets displayed are like:
The site ahead contains harmful programs
Continue to <website name>?
This page is trying to load scripts from unauthenticated sources
The site ahead contains harmful programs
However, to ensure any malware has infected your site, it's recommended that you go through the Google Safe Browsing tool and find out whether it's showing any warning message. If you're getting warning messages, it's better to solve it as early as possible because delaying such warning messages may negatively affect your website's search engine rankings.