Keeping a current website backup can be the difference between a few hours of downtime and closing your doors permanently. Here's how to back up your website quickly and securely
If you own a website, a hack might be your worst nightmare. Finding out that your website has been hacked or it has run into some problem resulting in data loss is not something anyone wants to experience. As such, understanding how to back up your website properly (and having secure backups in place) can be your saving grace when it comes to keeping your business running when disaster strikes.
Unfortunately, unwanted situations occur. We understand that WordPress errors, cyber attacks or other issues can result in massive data losses. This is why website security specialists insist that you take proper website security measures and create backups regularly. These measures could save your website from cyber attacks and help recover it if you become a victim of a malicious hack.
Unfortunately, not everyone bothers to take regular backups — or if they do, they fail to do them properly. Data from Acronis shows that only 13% of IT professionals and users follow backup best practices. However, you should backup your website whenever there is an update so that if anything goes wrong, you'll have the means to restore it to its previous state. By maintaining proper backups, you can minimize the risk of critical data losses.
So, if you're wondering how to back up your website, keep reading. We'll discuss the different ways by which you can securely create a full backup.
4 Ways to Back Up Your Website Quickly and Securely
If you have questions about how to back up your website and what types of options are available, read on. Here, we'll list the different ways to back up your website — you just need to choose the one that fits your requirements.
1. Create Manual Backups of Your Site
As the name implies, this is a manual, low-tech method. Here, you make your website backup manually using the file transfer protocol (FTP) server. (For sensitive data, use secure FTP [SFTP] or SCP.)
Although manual backup gives you full control, it has certain downsides such as:
You won't be reminded to create backups, so you'll have to remember to back up your website regularly on your own.
If your website is large, it'll take time to complete the backup process.
You'll need to monitor the download of your website backup to make sure the backup process is complete.
You'll have to set up your own process for managing and storing the downloaded website backup files.

If you've chosen to go with this option, then we recommend that you follow these tips:
Set reminders to back up your website so you don't forget to do so.
Maintain a current directory structure with the date as the directory's name to store website backup files.
Make sure you create a backup of your website database as well.
Be sure to store the backup of your website on multiple hard drives for an extra layer of protection.
2. Use Your Host Provider's cPanel to Create Backups Directly
Check your hosting provider's control panel (cPanel) account to see whether it offers the feature to back up your website. It's a one-click feature that creates a backup of your entire website and database, which you can download from your hosting account once the process completes.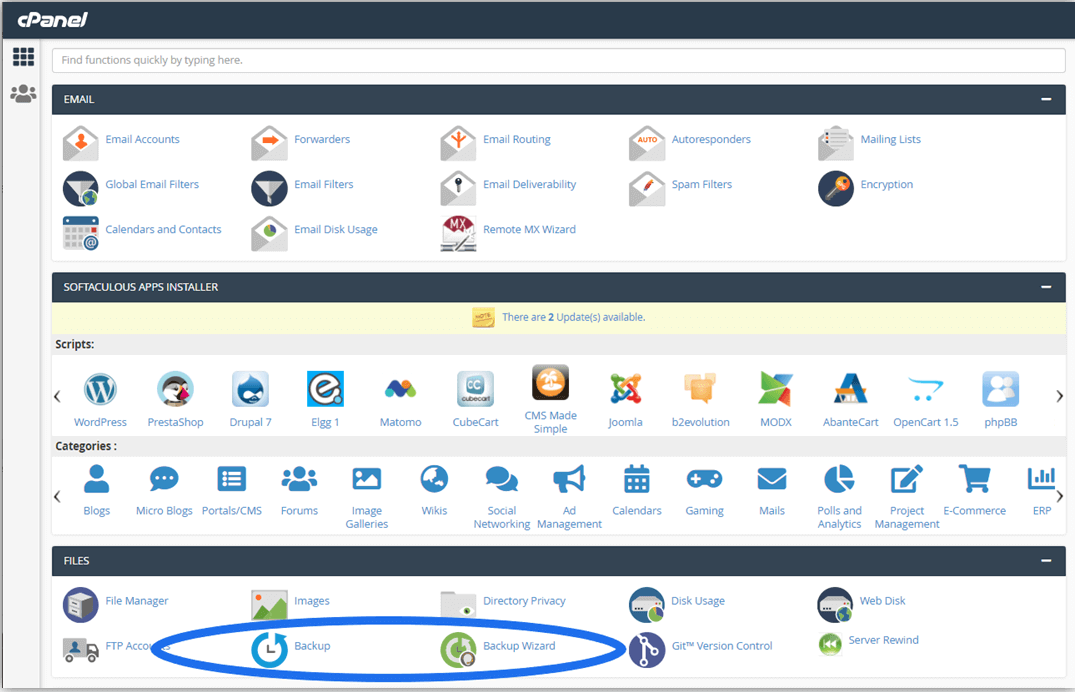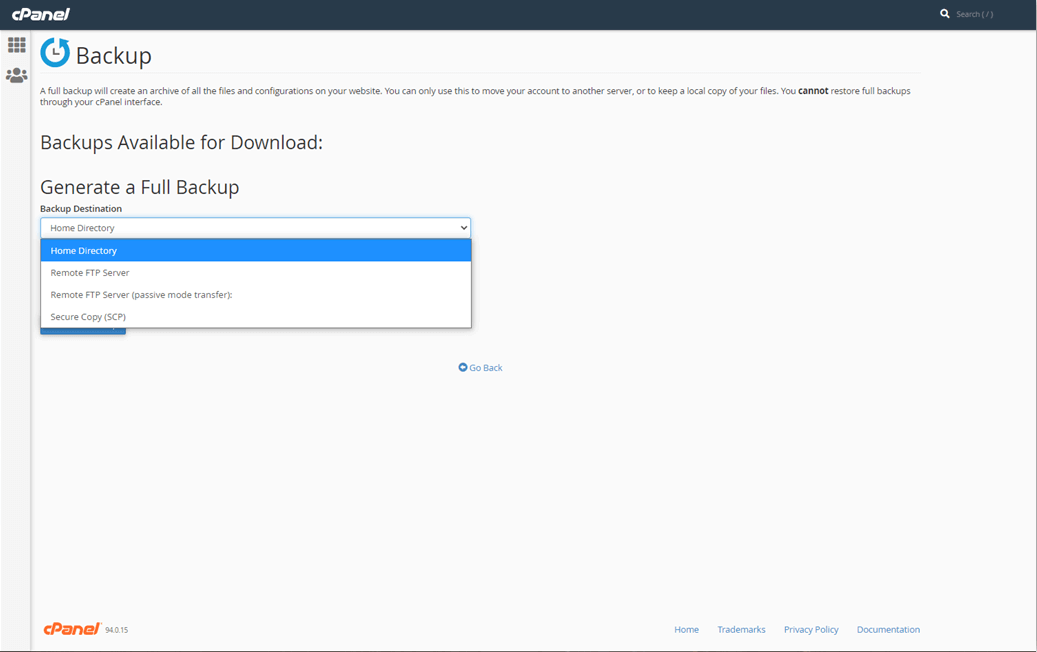 However, much like the manual backup process, you won't get any reminder notifications, nor will cPanel create backups for you automatically. As such, you'll need to remember to create backups regularly on your own through manual processes.
We recommend downloading a copy of the backup and storing it safely on your local computer once the backup is complete. This will help you to avoid losing the backup should the host's server goes down.
3. Create Cloud Backups
Cloud backup is another option for those who wonder, "how should I backup my website?" A cloud backup solution is one of the best options to back up your website securely and safely. Cloud backup is a remote service that enables users to back up their entire website and database and allows them to access their website backups from anywhere.
Three popular cloud backup solutions are:
Manual Cloud Upload: Here, you simply upload your website backup files to cloud storage. It involves manually uploading every file along with the entire database of your website. Whenever you want to access the backup, you can simply download it.
Dropbox: Dropbox is a useful backup tool, especially for WordPress users. It comes with a plugin that lets you backup your website entirely with just a few clicks.
Amazon S3: Amazon S3 is one of the most popular backup solutions. It requires installing server software such as CloudBerry Backup Server Edition to get your data onto S3. However, as a WordPress user, if you don't have the right to install any server software, you can go for options like Backup Buddy, a third-party backup plugin to store your backup to Amazon S3.
4. Use Automated Backup Services
If you often forget to take regular backups or your site is constantly updated − with user data, for example — we recommend that you think about switching to an automated backup service like CodeGuard Backup.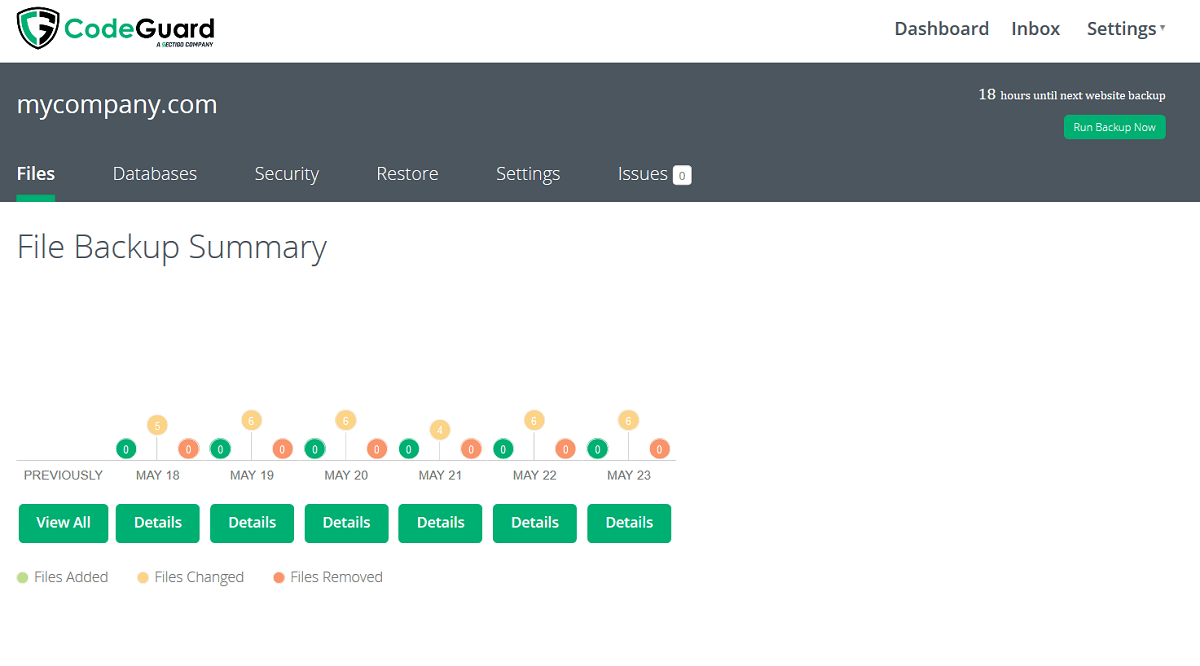 CodeGuard Backup takes a complete backup of the entire website along with the database regularly and automatically. It also offers security features like MalwareGone that automatically scans for malware. If CodeGuard finds any malicious code or malware within your site, it will remove it. If you're using a WordPress website, there is a plugin that lets you operate CodeGuard Backup in a few clicks through the WordPress admin panel itself.
How to Know Which Website Backup Option Is Best for You
When it comes to website backup services, there are certain features that you should look out for. Different backup options suit different websites, so it's best to work out your requirements first. This way, you won't end up paying for features that you don't need.
Below are the three different features that you should look out for before choosing a backup solution for your website:
1. Automatic Backups
If you choose to back up your site manually, there are sure to be times when you struggle to keep up with regular backups. Sometimes, you might even forget to do it at all. We get it — you're busy running your business and likely only have time to complete a handful of website-oriented tasks regularly. Needless to say, you don't want your ability to make website maintenance and content updates to suffer because you're too busy performing back ups of your site!
Instead of forgetting, delaying, or neglecting other tasks, consider using an automated backup tool. By choosing an automated backup solution, you won't have to worry about remembering to create backups yourself — the automated backup solution will take care of it. For the most part, using automatic backups is a bit of a set-it-and-forget-it kind of situation.
2. Multiple Storage of Backups
Ensure that whatever backup solution you choose offers the facility of storing redundant backup files on multiple servers in different places. For example, the CodeGuard Backup solution stores backup copies of the website on its multiple servers in several different locations. This is beneficial in the event of a natural disaster such as an earthquake or a flood. If you don't have all of your backups stored in one geographic region, then you're less likely to lose all of your website backup files.
3. Encrypted Backups
If you're going for the manual backup solution, then encrypting your backup files by default won't be possible. But if you go for an automated backup solution, then you should check whether it offers encrypted backup storage. For instance, many popular backup solutions provide backup storage with strong block ciphers like AES-256.
What Are the Benefits of Backing Up Your Website?
Whether you make backups or not is entirely up to you, but we recommend that you make it mandatory in your website security policies. That's because you can never be sure that your website won't face an issue. If something goes wrong and you lose essential website data, you can use the backup to return your website to its former state and get it back online quickly, without having to build anything from scratch.
Here are some of the benefits of taking regular website backups:
1. Easily Retrieve Files and Information
The most significant benefit of taking regular backups of your website is information retrieval. For instance, once you take a backup of your website, you can rest assured that you won't lose any critical data. If the site stops working or if your site is attacked, you can use the clean backup to restore it.
2. Save Time and Money
If you don't have a backup of your website and something goes wrong, resulting in data loss or even the entire website being attacked and infected, you'll need to start from scratch. Rebuilding can be expensive, time-consuming and stressful. But when you backup your website regularly, you'll have it back up and running in no time.
So, even if you lose any data or your website faces an issue, you can delete that version and restore your website using a backup. You'll have to re-add any data added since the backup, but you'll still save a significant amount of time and money as you won't have to build the whole website again from scratch.
3. Add Another Layer to Your Organization's Security Defenses
By backing up your website using automated backup tools like CodeGuard backup, you can be assured that your website backup will remain secure with their latest encryption standard. For example, CodeGuard is a backup tool that uses 256-bit AES encryption to secure your backup files. In addition, it comes with a malware scanner that can find and remove threats.
4. Maintain Multiple Copies and Versions of Your Backups
By taking regular backups of your website, you'll have multiple copies. Henceforth, you'll have a different version of backup copies of the site so it's easy to use the backup version of your choice.
Something that goes hand-in-hand with this is the 3-2-1 backup rule. The idea here is to save three copies of files on at least two different types of media, and one of your backups should be stored in an off-site location.
Why It's Important to Back up Your Website Regularly
Below are some points that will help you understand why you should make taking regular site backups a priority:
1. Your Site Backup Is Not Your Hosting Provider's Responsibility
It may sound surprising, but your web hosting provider is not responsible if you don't take backups and lose data or even your entire website. However, most web hosting providers offer site backup features that allow website owners to take a backup of their websites through their hosting accounts. Some even make backups without making them available to users for security reasons.
2. Having a Current Backup Helps You Get Back Up and Running Quickly
Having a regular backup of the website makes it easier to react to any issue as quickly as possible. For instance, if you're running an e-commerce website and your website goes down, leaving you open to heavy losses, a site backup will help you get your site back online quickly – even if you can't figure out what went wrong.
3. Storing Your Original Website Isn't Enough
You probably stored the source code and made a backup of your website when it was first developed. But any changes or tweaks you've made to the website or database since then won't be present in this backup version. Using the latest version of the backup is essential to get your website back running as it was before the issue occurred.
Closing Thoughts on How to Back Up Your Website (and Why It's Important)
Things go wrong — it's a fact of life. Therefore, it's crucial that you maintain regular backups.  Which website backup option to choose is up to you − if you have a simple website where you only display limited information about your company, then you can go for manual backup. If you have a more complex website, you might choose a different solution.
In this article, we've explained some of the different types of backup solutions available, why backups are essential, and what you should look for before choosing any backup solution for your website. We hope it helps. Good luck!
Easy Backup With Extra Security Features
Take a backup of your website with CodeGuard Backup. It offers a reliable website backup solution, tailored to the client's business requirements. It's a valuable tool that will automatically take a backup of your website daily and also comes with added security features like Malware Gone to detect and remove malware from your website.
Shop CodeGuard Backup Solution
Easy Backup With Extra Security Features
Take a backup of your website with CodeGuard Backup. It offers a reliable website backup solution, tailored to the client's business requirements. It's a valuable tool that will automatically take a backup of your website daily and also comes with added security features like Malware Gone to detect and remove malware from your website.
Shop CodeGuard Backup Solution